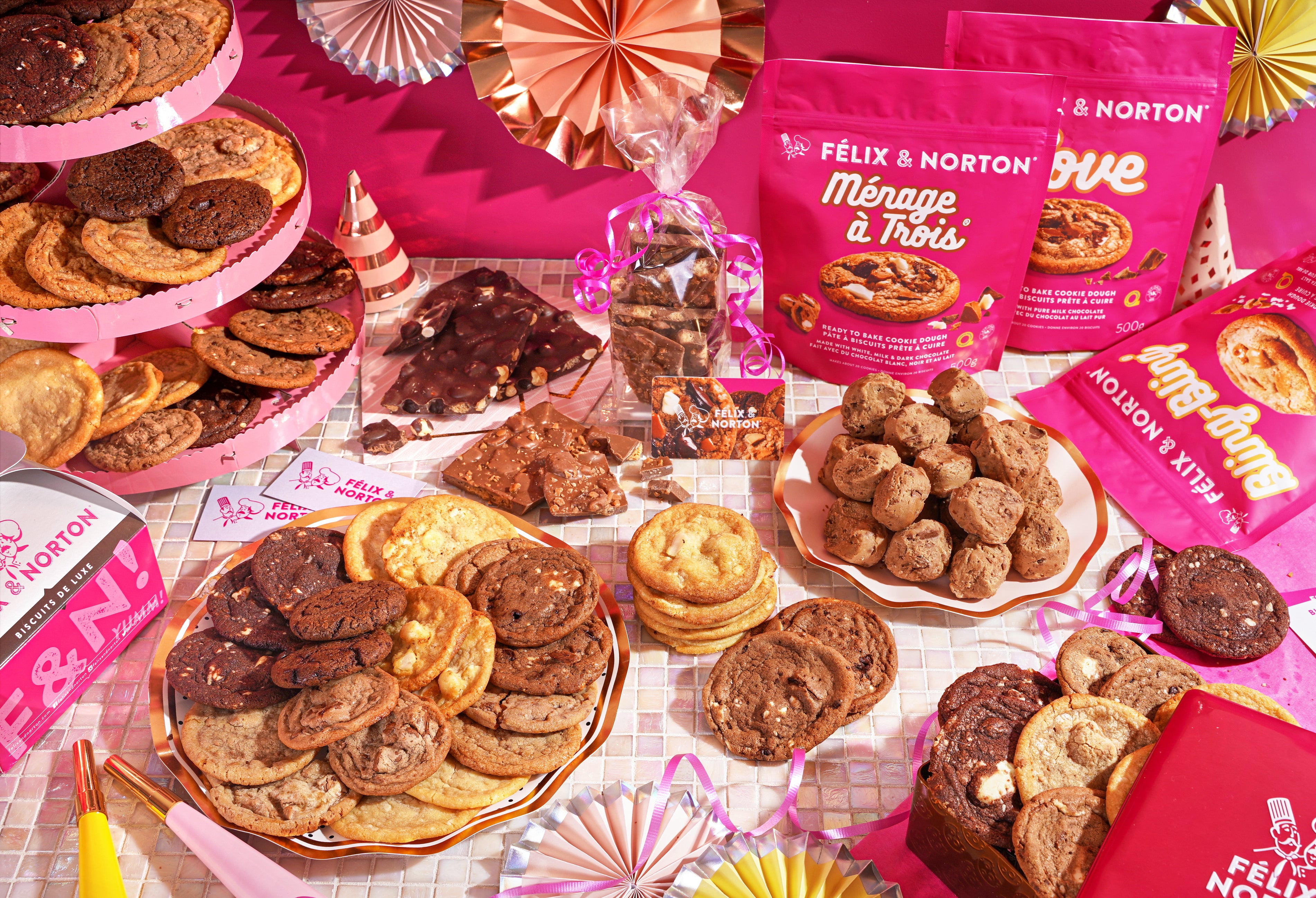 Got a question?
In case your question isn't addressed below, please send an email to info@felixandnorton.com.
Please note that due to their substantial weight, the Frozen Cookie Dough Cases (3KG) and the Giant Gourmet Chocolate Bars (2.5KG) are not included in the free shipping offer.
We deliver to most Canadian postal addresses using the reliable FedEX service. Unfortunately, at the moment, we do not offer international shipping. However, if you reside in the greater Montreal area, we do have a convenient and cost-effective local delivery option available for you.
Orders placed before seven AM on Monday will be prepared on Monday and delivered on Tuesday. 
Orders placed by Thursday morning will be delivered on Friday.
Orders received after seven AM on Thursdays through Mondays will be prepared and shipped on Monday for delivery on Tuesday. It takes 1 business day.
Deliveries are only made during business days nationwide.
Our products are shipped via FedEx (Standard Overnight Shipping), which usually takes 1-2 Business Days to reach you once they leave our facility.
Because we bake our cookies in Montreal, Québec, you can expect your order to arrive the next business day.
As soon as your order is shipped, we will provide you with a tracking number so you can track its delivery. 
It is possible to experience delays in express postage during holidays. 
Please do not hesitate to contact us at info@felixandnorton.com if you haven't received your order within 3 business days after the desired delivery date.
FedEx will leave your package near your door if you are not home to receive it. Upon leaving the bakery, all orders are carefully sealed.
Depending on the content of your order and your location relative to our Montreal fulfillment center, the shipping cost can range from 15$ to 150$.
You can take advantage of flat local delivery rates at 10$ through our partner Genie if you are located in the greater Montreal area.
Corporate orders with multiple products delivered at once address with a personalized are not subject to the same shipping rules as a regular customer who would order from the website directly. Price may differ with each type of order.
The shelf life of cookies stored in an airtight container is one week. Of course, once they're delivered to your home, they won't last very long! Yummy!
On the day you receive your cookies, freeze them if you don't plan on eating them all at once. 
To eat, heat your cookies in the oven for 1 or 2 minutes at 350 degrees Fahrenheit until they are warm and gooey.
Not at all! Our delicious cookies have been made the same way for 38 years. The same recipes, the same amazing taste.
No matter if you try them again after 1 month, 3 years, or 15 years, you'll get that nostalgic feeling. It's Félix & Norton's guarantee!
Freshness is our top priority. The cookies are always baked on the day that they are shipped from our fulfillment center. No matter how far in advance you place your order, we will still prepare them on the day of shipping.
We prepare our cookies in a facility free of peanuts and peanut products. Despite our efforts to ensure that our products are peanut-free, peanut-free certification requires that even the suppliers of ingredients are peanut-free. Consequently, we cannot guarantee there are no peanut traces.
We make some flavours with nuts, so we recommend that people with severe nut allergies do not consume our products.
Despite the fact that our no-nuts flavours are prepared in the same facility as our cookies that contain nuts, every precaution is taken to sanitize our entire production line, so nut contamination is extremely unlikely.
Cookies and cookie dough are certified Kosher Dairy by Vaad Ha'Ir in Montreal. Cookie dough and Au Naturel (Vegan) cookies are certified Kosher Pareve by MK.
Using only natural ingredients, we make all of our delicious cookies in Montréal. Due to the perishable nature of our products, we cannot guarantee (especially in the summer) that the cookies will arrive in excellent condition. Therefore, if you don't receive your order within our guaranteed 1-2 business days, you are eligible for a replacement or a refund.
We reserve the right to cancel or modify an order if we are unable to fulfill the request before the product has been shipped. If we cancel an order, we will automatically refund the full amount. In the event that your order is for someone else (a gift), you should also verify the shipping address before placing your order. We do not offer refunds for orders that have had the wrong shipping address after it's been shipped.
Please note that we do our best to respond to enquiries as quickly as possible during business hours (8am-4pm Monday-Friday).